Music at Queen Anne's School is very much alive and kicking!  We have a thriving and busy Music programme which has plenty to offer aspiring musicians.  Music is a compulsory curricular subject until Year 10 when it becomes a GCSE option and, in L6, an A Level option.  Approximately two-thirds of the school learn a musical instrument and many take part in choirs and orchestras.
The aim of the music department at Queen Anne's is to give girls a working knowledge of the skills of Music – Performing, Listening and Composing. We seek to improve their skills in each of these areas as well as to introduce and develop those who may not have been exposed to this at their previous schools.
THE DEPARTMENT
Principal Director of Music: Mr John Padley
Director of Music: Mr Ben Giddens
Head of Music Technology: Mr Alec Boulton
Music: Mr Christopher Redfern
Music: Mr Mark Richards (Deputy Head – Academic)
Music: Miss Tatjana Ognjenovic
Music Administrator: Mrs Claire Richards
Visiting Music Teachers
Brass: Mr Tim Carlston
Clarinet/Saxophone: Mr Ian Haysted
Clarinet: Mr Nicholas Shipman
Flute: Mrs Katherine Laughton
Flute/Piano: Mrs Alison Wilkins
Guitar: Mr Patrick Moore
Oboe: Mrs Sylvia Ellison
Percussion: Mr Michael Creech
Piano: Mrs Maja Bilic
Piano/Music Technology: Mr Alec Boulton
Piano: Mrs Anna Hodgkinson
Piano: Prof Jocelyn Longworth
Singing: Mrs Julie Kench
Singing: Ms Tania Pratt
Violin/Viola: Ms Reineke
Violin: Mr Jonathan Burnett
Graduate GAP: Miss Newton
Music at Queen Anne's is a central part of the life of the school. There are over forty performances annually, ranging from large-scale orchestras such as 'The Academy of St Martin in the Fields' and The Fine Arts Ensemble visiting the school, to the girls performing at London concert halls such as St John Smith's Square, Westminster Abbey and Spittalfields to informal workshops by visiting professionals such as VOCES8. The range of music-making is considerable and the ethos is that it is good to perform, open to all to have a go as well as presenting a consistently high standard. The Music Department seeks to expose the students to all areas of music and the music business by regular visits from composers for film and television and seminars by university lecturers. The sounds from the music department drift across the Quad throughout the day and evening and are a constant reminder that Music at Queen Anne's is alive and kicking!
The music department is well-equipped with 20 practice rooms, two rehearsal spaces, a recording studio and a classroom including an Apple Mac suite.
EXTRA CURRICULUR ACTIVITIES
The Music Department has three full-time staff and 21 visiting music teachers who cover the full range of orchestral instruments, keyboard and guitar. Approximately two-thirds of the school learn a musical instrument and many take part in choirs and orchestras.
During the week the following groups meet:
Chamber Choir
Consort Choir
Lower School Choir
Sinfonia Orchestra
Chamber Orchestra
Wind Ensemble
Flute Group
Swing Band
Junior Orchestra
Saxaholics
Close Harmony Group
Trumpet Group
Music Technology Workshop
Theory and Aural tests surgeries
Glee Club
There are regular concert opportunities throughout the year and groups perform outside school in places like Westminster Abbey, Reading Minster, Oxford and St John's Smith Square. The Choir and Chamber Orchestra have toured in Venice and Paris.
The Professional Concerts series has seen the Fine Arts Brass Ensemble, the OXUS Quartet and the Bright Stars of Jazz giving concerts and workshops with students from Queen Anne's and other schools. VOCES8, the professional vocal octet have been working with our students on vocal technique and performance. We have strong musical links with The Oratory and Shiplake College. Students also attend concerts in London and Reading. Reading Symphony Orchestra rehearses at the school and it is possible for advanced players to join in with them.
Academic Music is taught at both GCSE and A level using the IGCSE, EDEXCEL, and OCR specifications. It is also possible to take A level Music Technology as we have excellent facilities for recording and sequencing.
See Music in Action
The annual Queen Anne's School Carol Service at Dorchester Abbey.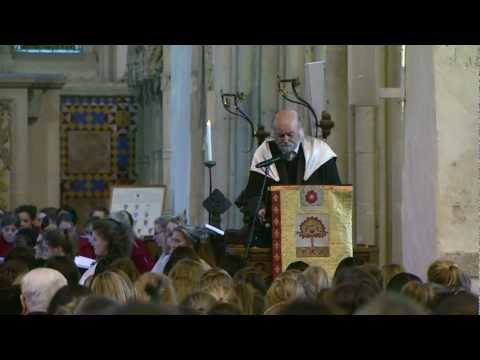 Queen Anne's Chamber Choir rehearsing with professional singing group VOCES8 during a musical residential weekend.